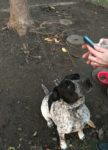 CALEB LIVED ON A CHAIN TIED TO A TREE FOR 3 YEARS!!!
He did not have any proper shelter. His owner refused our help with a crate, a dog house or even hay to get out of the mud and cold.
A group of us rallied to FREE him and repeatedly called DAS until the owner finally released him.
Caleb now sleeps on a dog bed and lives INSIDE of the house in his foster home!!! He is getting the love and attention he finally deserves!!
Caleb is a low rider (a shorty – a pocket pittie) and one of the sweetest and most gentlest dogs I have ever met!!! He has never met a stranger and gets along well with other dogs…he is so calm and so gentle and a sweetheart!! Not a mean bone in his body!!!
This dog is a gem and he is available for adoption!!!
EMAIL: mini-mutts@outlook.com