Meet Bentley!
Bentley was found as a stray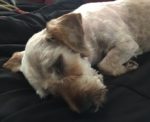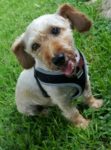 in horrible condition and taken to the Paris shelter.
He was a hot mess and a sad example of people that get high maintenance dogs that they can't afford to maintain!
Underneath all that mess was a very sweet boy that deserved better then he ever had!! He was adopted and lives in a nice house and gets treated like he has never known.
How long and how many people knew about this dog's situation and did absolutely nothing????
If you see dogs being abused or neglected and turn your eyes away and don't stand up for them you are just as guilty as their crappy owner.
We can all stand up and do something!!!